A comprehensive plan arose in the spring of 2013 from a vision to improve the University of Louisiana at Lafayette's environment and make it one of the most comfortable and inspiring academic institutions in America. The University undertook the task of developing a master plan, which is intended to guide the physical growth of the campus into the 2030s.
Initial Process
The process, at its core, was informed by high-level assessments surrounding academic space needs as well as market demand-side analysis.
The Master Plan is the result of a yearlong public participatory effort involving long hours, linking the input of hundreds of stakeholders, including UL Lafayette students, administrators, faculty and staff, Lafayette Consolidated Government directors, and neighborhood organizations. The process was led by Architects Southwest, which incorporated guidance from national experts for respective parts of the plan.
The Plan
Besides guiding the University as it continues to grow and develop, the plan will contribute to student academic success, build a stronger sense of community, improve the quality of life on and around campus, enhance safety and sustainability efforts, and foster opportunities for economic development.

The plan is intended to successfully weave three incongruent adjacent landmasses – the Main Campus, the St. Landry Corridor, and University Common – into one cohesive University District, through an articulation of uses, patterns, transportation idioms and environmental sensitivity.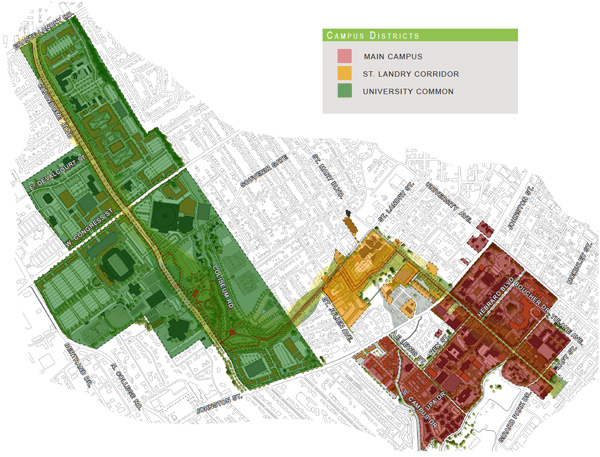 View the plan at the links below:
B. Master Plan & Design Vision
C. District Regulating Standards